News
Exhibition at TICAD7 YOKOHAMA in August
2019.6.27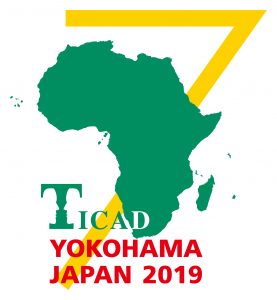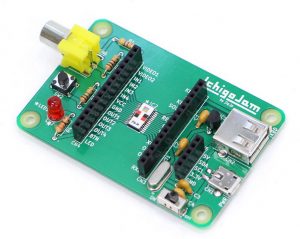 ict4e ltd. (Fukui City, Fukui Prefecture, CEO: Hidekazu Hara), we offer IT consulting and African business. At the 7th Tokyo International Conference on African Development(TICAD7) in Yokohama, we will exhibit some products in "the Japan-Africa Business Forum & Expo" Japan Fair by JETRO.
Japan Fair is an exhibition that introduces Japanese technologies, products and services to Africa. Many Japanese companies related African business will exhibit products, technologies, etc.
We will introduce a small palm-sized personal computer "IchigoJam" at this event. We have had programming workshops with "IchigoJam" in Rwanda, Kenya and Tanzania. Through this event, we aim to identify the needs of other African countries and to create a new business network.
At the event, an African student who works at our company as ABEini internship will also join with us. It will be a valuable opportunity to hear from the perspective of African students the experiences and impressions she has learned about programming with "IchigoJam".
Please come and feel the possibility of "IchigoJam".!
Date: August 28 (Wed) – 30 (Fri) ,2019
Place: Pacifico Yokohama Exhibition Hall
Booth Information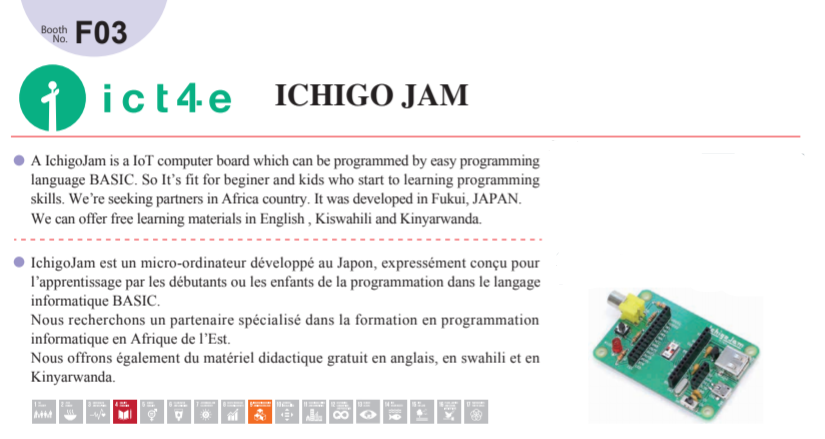 "TICAD"
An international conference led by the Japanese government, with the United Nations, the United Nations Development Program, the African Union Commission, and the World Bank in conjunction with Africa's development theme. Following the 4th in 2008 and the 5th in 2013, the 7th will be held in Yokohama from August 28th to 30th, 2019. At the largest international conference hosted by Japan, more than 4,500 people attended, including the heads of state and leaders, national and international organizations and regional organizations, and representatives of the private sector and civil society such as NGOs.
https://ticad7.city.yokohama.lg.jp/about/en/
"Japan-Africa Business Forum & EXPO"
JETRO will hold the Japan-Africa Business Forum & EXPO as one of the co-hosted events of the 7th Tokyo International Conference on African Development(TICAD7) held in Pacifico Yokohama. The event is roughly divided into "Business Forum" and "Business EXPO". At Business EXPO, we will hold the Japan Fair, which introduces products, technologies, etc. of Japanese companies.
https://www.jetro.go.jp/en/events/jabfe2019/
"IchigoJam"
It is a programming education tool software for children that does not require setup, is simple and inexpensive. It is possible to develop software and games using the programming language "BASIC". Just plug in a TV with a video cable, plug in a PS / 2 keyboard, plug in the microUSB as a power source, and start learning your programming.
https://ichigojam.net/index-en.html